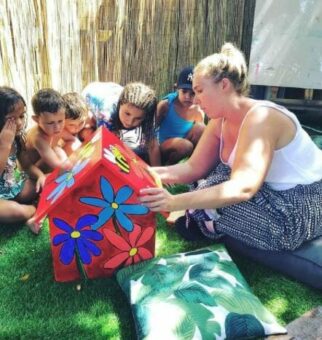 FDC United Educators Scheme is a family daycare service in Sydney. Our educators are all based in different geographic locations. Our aim in starting the travelling Street Library was to find a way to create connections amongst the educators, children, families, and the local community. 
We were influenced by the 'bookmobile' libraries that were employed in remote towns during the 1800s throughout the USA. In addition to motor vehicles, bookmobiles have historically been based on various means of conveyance, including bicycles, boats, trains, as well as elephants,  camels, horses, and donkeys. 
Each month the educators fill the library with information about themselves and what concepts the children have been exploring. There will be books related to this topic as well as an educational activity for the children to participate in, helping to make the learning interactive. 
Our travelling Street Library not only builds a sense of belonging and community, it also inspires a love of reading in the children, and teaches them the concept of giving and sharing as they prepare the  library for it's journey to the next family day care educator's service. 
Recently at Tanya's family day care the children had been on a journey exploring their own diverse  cultures. The Street Library was filled by the previous educator with books relating to Italy and a hands  on activity giving the children the opportunity to make Venetian masks to extend on their learning.  When the learning is relevant and authentic, it is more likely to support children's learning. 
"You are never too old, too wacky, too wild, to pick up a book and read to a child" – Dr Seuss