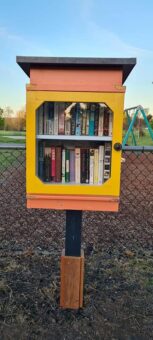 Those books had been kindly donated by members of the public for the enjoyment of the community.
Founders of the unofficial governing body of the street libraries in the Canberra/Queanbeyan region, "Lil Street Libraries", Shah Petreski and Roz Martiniello, were made aware of the damage done at Chifley Shops and were instantly outraged.
"It's devastating and just nonsensical. You just can't believe that someone would do that," said Ms Martiniello.
However, it's not all doom and gloom. Known in the Lil Street Library community as the "LSL Superhero", a man, who at this stage is choosing to remain anonymous, came to the rescue of the street library on Wednesday.
The LSL Superhero had the book box looking as good as new by afternoon and later that day another especially generous member of the community filled it with books.
Source: Anonymous hero comes to the rescue of vandalised Chifley Shops Street Library | The RiotACT