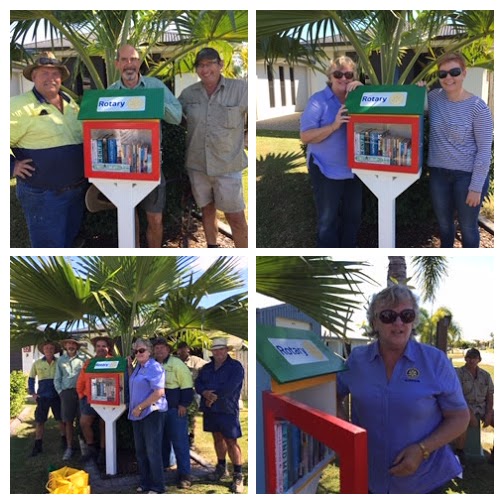 My Street Library story… Bente McDonald . August 2019

Ever since I heard of the concept of Free Street Libraries, I have contemplated how we could make that happen in my little township of Walkerston.
I put the idea of such a Rotary meeting in 2016.
There was no real interest shown at the time, but I kept collecting information about how well this concept had worked for another Rotary club south of Mackay (Queensland), of which Walkerston is a small suburban township of about 4,500 residents. In early 2018, the Street Library subject came up again…and the decision was that the club would go with my 'dream project'.
I was given the go-ahead to check out where we might 'plant' one of these things. We chose a deliberate area, and indeed address for our Street Library – quite some distance away from our local Council Library branch.
The Street Library was constructed in one of the member's shed. The date was set for the erection. Sunday 10th June 2018 was the date! Terrific!
We had numerous books already donated to us to fill and revolve stock if necessary. We published the fact that there was now a Street Library in Walkerston by dropping flyers in the immediate area, and the local Mackay Daily Mercury also had an article about it.
Our Street Library is now over one year old. It is still as popular with the local residents as it was during its first month. We monitor and rotate stock, making sure there is 'new' titles available.
We have now identified two other spots, in neighbouring townships, that will be where our next two Street Libraries will be placed, and – hopefully – open for business in the very near future.
Bente McDonald
Local Mackay Daily Mercury article – July 2018
HARRY Potter, Moby Dick, Huckleberry Finn… you never know whose adventure you might step into when you open the little door of Walkerston's first street library.
Scrubby residents now have the chance to exchange a book for a book at the colourful and creative street library located at 32 Stevic Street in Valley View Estate.
The initiative aims to promote literacy within the community, which aligns with Rotary International's philosophy on improving literacy in communities.
Walkerston Rotary's young generations director Bente McDonald said The Street Library was already very popular.
"Even though the Street Library has been operational for just a few weeks, it has already attracted quite a bit of interest having had many visitors, from not just the immediate area, swapping books," she said.
"It has also attracted visitors from Mackay; in fact – even a Townsville family, holidaying in the area, has used the Street Library having read about it on social media."
Bente said there were plans to expand into the future.
"Hopefully this patronage will continue, and one street library's popularity will have Walkerston Rotary embarking on the next part of its plan – to establish more Street Libraries in other carefully chosen localities," she said.

Walkerston Rotary Bulletin article – June 2018 Even though our Walkerston Street Library has been operational for just a few weeks – it seems it has already attracted quite a bit of interest – having had many visitors from not just the immediate area, swapping books. It has also attracted visitors from Mackay; in fact – even a Townsville family, travelling through, has used the Street Library having read about it on social media.
It is estimated that there are about 40,000 of these Street Libraries – which come in all shapes and sizes – all over the world. Walkerston's Street Library is, allegedly, the first in the Mackay area, but possibly not the last – as the club has plans for more to progressively be placed in carefully selected positions throughout the district.
The Rotary Club of Walkerston has always supported and promoted literacy – it being one of Rotary International's main worldwide projects…