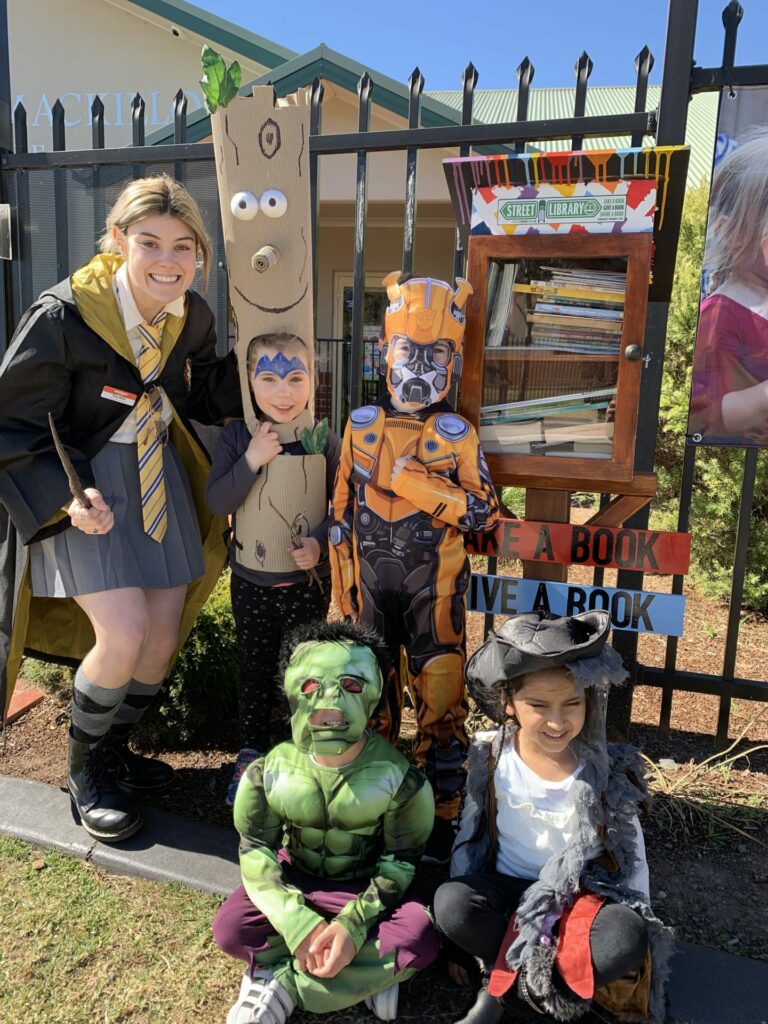 Everlearn Preschool originally installed a Street Library in their Clovelly campus in 2016. It was very well received by the local community.
Earlier this year, the educators and children at Everlearn Prestons expressed interest in installing their own Street Library. The response from the community has been overwhelmingly positive!
Everlearn Preschool Prestons has is a diverse community with many familes coming from non-English speaking backgrounds. They are all delighted to be able to assist in making books and literacy more accessible for everyone.
Below is what Everlearn Preshool sent out to parent and carers when they installed their Street Library:

"There are many little ways to enlarge your child's world. Love of books is the best of all."

The children of preschool LOVE their books and are always keen to explore a new story or share a story with their friends and wider community.

When they found out about how Street Libraries work and that there were very few in South-West Sydney they took upon themselves to create their very own Street Library. With the assistance of their teachers the children painted, installed and stocked one of Prestons' very first Street Libraries with some of their favourite stories.

HOW IT WORKS:
Anyone may contribute or take books. The more the merrier! If you take a book (or two) from a Library, you do not need to return that exact book. However, in order to keep the Street Library full of good choices for the whole community, the next time you swing by the Library bring a few books to share.

Street Library book exchanges function on the honour system; everyone contributes to ensure there are always quality books inside.

This way, we all win!

We are so excited to be able to share our love of early literacy with our wider community and can't wait to see how our Street Library gets used.

Happy reading!

Here are various comments we've received since opening it:

Comments from children at the preschool:
The library is so cute, do fairies sleep in it at night?
I love checking the library in the morning to see if there are more books.
It's nice to give the books we are finished reading to other children to read
There are so many books in our street library I think it will explode soon.
I love our Street Library.
There are some really cool books in our Street Library.
We went through the books we had read at home and put them in the Street Library and took new books to read.
The birds like our Street Library too, I saw one sitting on it.
Our Street Library is awesome. I say good morning street library when I walk in the preschool gate.
I'm so excited to see what new books are in our library when I come to preschool.
When we drive by our preschool we wave to our street library because we love it.

Preschool parent comments:


This is the first I've heard of or seen a Street Library.
Love the design it's very vibrant and inviting.
I love that the children get to choose books they may not necessarily see at a store or be available anymore.
It is so easy and to use before preschool drop off or at pick up time.
Time-efficient.
We have so many books at home that the children have outgrown this is a great way to share them.
Great idea to encourage the love of reading in young children.
This is wonderful. Reading is so great for children.
It is like a treasure trove, you never know what books the children will find in their Street Library.
A great way to teach children to recycle, share and give.
The siblings get just as excited about the Street Library.
On the weekend when we're in the area the children ask "Can we please drive past the preschool library mum? Just to check on it."
Another wonderful Everlearn addition.

Community comments:
Recently a lady was putting books in our street library for her elderly neighbour and selecting one for her. She said hi and we started talking to one of our staff members. She said she had never seen or heard about Street Libraries and was initially pleasantly surprised to find books for adults and thought the Street Library was just for children. She was returning books she had borrowed for her neighbour that lived a few streets away but could not drive and could not walk. She said what a great idea for elderly people and even people that do not drive or have cars.

Parent comments from St Catherine Siena Primary School (across the road):
I love that we can use the Street Library so conveniently after school. The children love going home with the book they have selected and reading it.
What a great way of encouraging books to be recycled and shared.
What a great way to share with the community and allow all to use.
My children love to ride their bikes or scooters down on the weekend and use the Street Library.
I think Street Libraries bring excitement back into books and reading.