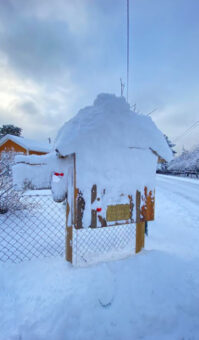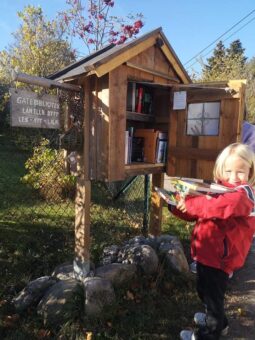 Saltholmen Byttebibliotek
In a tiny coastal village of Saltholmen, on the small island of Saltnes (3.5 hours south of Oslo, Norway) lives Rudi the Street Librarian. He  is passionate about keeping a well stocked "Byttebibliotek" (Street Library) for his community of 2,000 people.
Rudi has travelled the world, exploring many wonderful countries and experiencing different cultures. He reflects on his life so far with the great decisions he has made in his life. One of them was to move back to Norway after his grandmother persuaded him to buy a house and settle in Saltholmen. The others are becoming a circus performer, a market economist and now a Street Librarian.  
Rudi's Street Library is installed out the front of his small wooden house. The Street Library is located next to the main trail leading down to the sea. It is a popular road for afternoon walkers and people are often seen peeking through the small doors of his Street Library. It is a micro cultural arena of human connection and shared experiences where the rules of participation are simple; take a book or leave one. It is its own social ecosystem of exchange and contributions. 
His aim of hosting a Street Library is all about giving back to his community and sharing the love of books with everyone. In the small community of Saltes it is important to find something to help connect people and that is one of the main reasons Rudi started a Street Library. Now that Rudi is settled in Saltholmen he is travelling less around the world, when he feels he needs a change of scenery he grabs a book from his Street Library and he is taken to places without the effort of moving too far from his comfortable chair. 
When it comes to the weather, his Street Library is constantly changing to match all four seasons. In the summer it is particularly great for books, the winter and autumn are typically better for DVDs, CD´s and LP's. This level of dynamic also makes the Street Library come to life. 
Norwegians are particularly humble and shy by personality, they simply value the privacy and independence of each other. Seen from the perspective of southern countries, they would easily appear introverted and socially distant. They are really not, but then again, they really are. 
"If you by some remote chance are traveling in Norway and feeling disconnected from the culture, I invite you to Saltnes to grab a book and enjoy light awkward conversations with the locals. We might not always be the best at small talks but our heart is the right place."