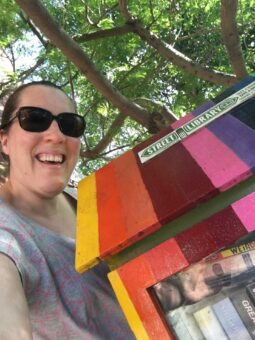 Some people's hobbies are stamp collecting. Some collect coins or ornamental spoons or action figurines— things that indulge the collector and inspire them to continue their hobby. For inner west Sydney residence Jill, she loves walking the streets and hunting down Street Libraries.
The walks were initially to get some time outside and enjoy exploring her local area. But then, upon tracing and retracing her steps, she started noticing something, Street Libraries teeming with books. As an avid reader and with her own very large book collection Jill thought it would be a great hobby to photograph Street Libraries. She started an Instagram project to visit ALL the Street Libraries in Inner West of Sydney. This is quite a significant undertaking as there are so many Street Libraries planted around the many suburbs of the inner west.

Before Jill sets out on her hunt for Street Libraries she maps out her walking journey by using the Street Library map. When Jill finds an unregistered Street Library she is eager to use the Snap Send Solve app to help with our mission of 5,000 registered Street Libraries by December 2021. 
"I'm a book loving person," Jill says. "I really enjoy exploring the local suburbs. I've discovered so many beautiful streets with gorgeous gardens, vibrant street art, and Street Libraries. At the moment we are unable to travel outside Australia I am really embracing my local area.   Another surprise has been joining the #bookstagram community, and the #bookbombing community (there is a term for what I'm doing!) and seeing all the amazing varieties of #streetlibraries, #littlefreelibraries, #minibiebs, #minibibliotecas, #boitealivres, #zwerfboeks, and #bibliothequederues and connecting with people from around the world! 
If you see me walking the streets come to say hi and if you have a Street  Library in need of a top up I have plenty of good books to share. Simply send me a DM on Instagram. Happy reading!"