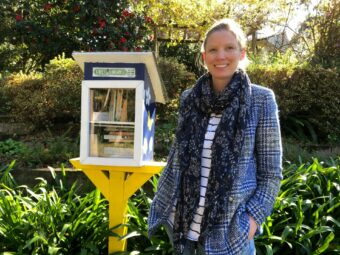 We started the Little Lappo Street Library in 2017. We're a corner block on a relatively busy footpath. As a public librarian myself, I'm passionate about sharing books and making sure that people have easy, inexpensive access to books. I have seen first-hand how life-changing that can be.
The Street Llibrary has helped us to feel a part of our community. We find people are more open to stopping and chatting because of it, as it is a real conversation starter. People say to us, "oh you live in the house with the street library!" and instead of our street name, we're "you know – the street with the Street Library!". We receive boxes of books to share and help with any repairs. We have received some beautiful thank you notes and inspired some other street libraries which make it very rewarding.
We love sitting on our front deck for breakfast in the summer, and we see all the cars pull up to swap their books for the week. In the early days, I would go down and change over the books regularly, but more recently it has taken on a life of its own and I find I don't need to go down so often (it is also a bit harder now with a 4 year old and a newborn!). When anyone asks me advice about starting their own, I tell them to start small. The larger Street Libraries can be harder to maintain, and the books in the smaller Street Libraries turn over quickly, so there's more interest.