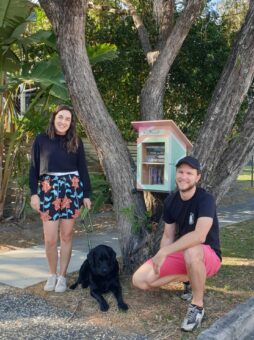 Our Street Library is in East Brisbane's Gabba precinct. Gabba in Turrbal language simply means 'place' and we definitely feel that the library has added a sense of place to our neighbourhood. With the Olympics set to be hosted in our front yard it is so important that the local area celebrates and retains its sense of identity and community amidst the imminent construction and development.
Our street has a very popular dog park at its end and the community of fellow dog lovers have come on-board as stockists, care takers and librarians. We only placed 10 books in the library originally and it quickly became full and well ordered without our involvement. We have placed the library on a custom cut marine ply shelf which is wedged in between the branches of a council planted bottle brush tree.
Kids love discovering the 'little book house in the tree' on their walks to and from the park. Our own nieces and nephews, who we painted the library with, live quite far away in Goondiwindi so we really enjoy that other children get so much joy out of their creation. Each of our 4 nieces and nephews chose a different colour and we used spray paint and masking tape to paint their initials onto the 4 sides.
We really appreciate all the work of Street Library Australia and thanks for bringing a fresh sense of community to our street.