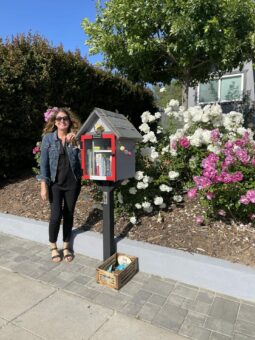 Welcome to Little Free Library XO! My name is Jennifer and I have dreamed of having a little library for many years. I used to teach elementary and special education, and books hold a special place in my heart. My husband, Emile, and I put up our library last July.
We are located in San Diego, California. Our custom-built library has books for children, teens and adults. It has a section for children's books and a shelf for small board books. Our neighborhood has lots of dogs and we always welcome them to our library. We have dog parking and dog treats in our library. Just below our book library, you will find our Dog Library. It usually has tennis balls and a few handmade bandanas.
The neighborhood loves our Kindness Box. It sits inside our library and has a variety of items in it. You might find handmade bookmarks, reading buddies, little journals, pens, or cards.
Our garland and library decorations change monthly. It is fun to see people stop and take pictures with our library.
We recently added a geocache and that has brought lots of additional visitors to our library. Our geocache code is GC9205D.
We hope you will stop by and see us virtually or in person. You will often find people sitting on the little wall by our library, reading a book or looking for a treat in our dog library. Please look us up on Instagram @LittleFreeLibaryXO
Happy Reading,
Jennifer