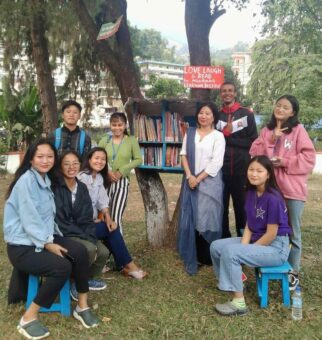 Ngurang Learning Institute a nonprofit organisation is bringing change one book at a time.
They started their movement on August 30th, 2020 (during the pandemic, having been inspired by a young librarian in Mizoram state. They have built 7 Street Libraries so far in their state to help promote reading habit amongst the children and students of our community. Meena is a teacher by profession, from which she discovered the drawbacks of the student's academic performances at school which was due to a lack of reading books. She believes reading books of various genres can help boost the creative intelligence of children from an early stage in life. Also, learn new vocabulary and grasp writing skills, owing to lack of which, the literacy rate of Arunachal is very dismal, second-lowest in India after Bihar state.
Along with my fiancé, Diwang Hosai, we were applauded by our PM Narendra Modi in his television address during the program 'Mann ki Baat'. By celebrating our initiative as a challenge, to transform our state to a new level. This Street Library project is to help the poor tribal kids benefit from the goodness of life and a journey with  books.
Their main motive is to outnumber the wine shops in Arunachal with a free book in Street Libraries. To help empower the children and students, for they are moving towards the Internet and mobiles, rather than books. Their aim to build free Street Libraries for poor students who are not able to access good books to read and help improve their personality and knowledge to shape their career in future.