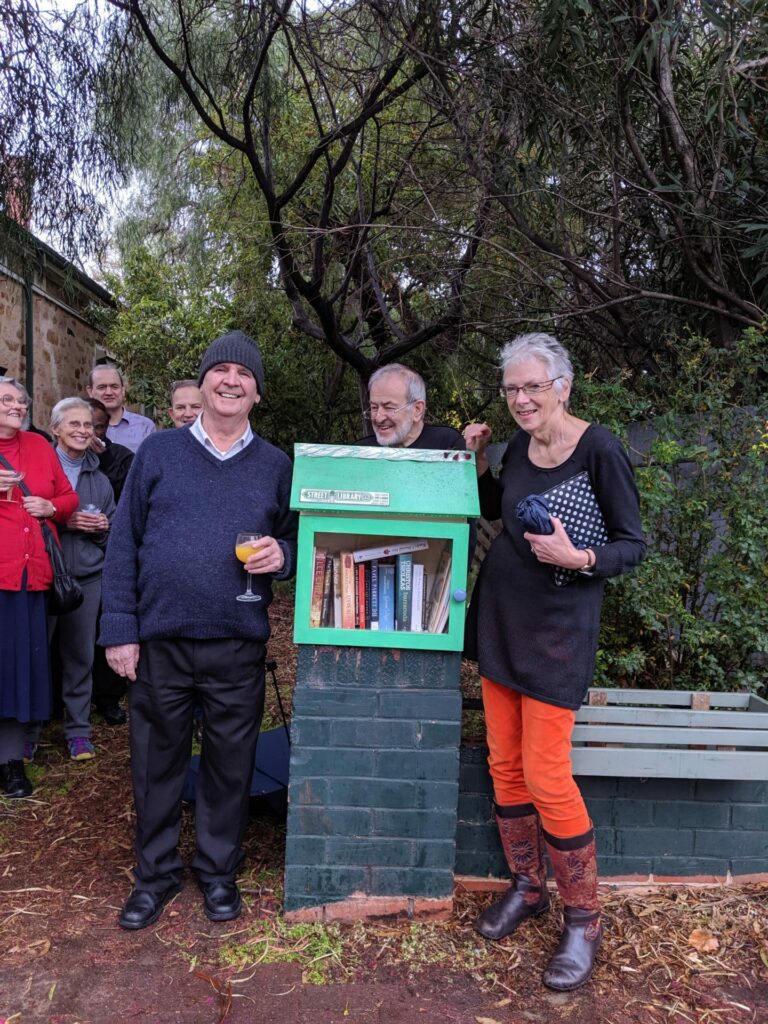 I first heard about Street Libraries on Gardening Australia when the lovely Costa made one from an old safe. I really wanted to make one from recycled material, but eventually realised that my scrap happy skills weren't up to making a solid, weather proof place for books. So, I ordered a Street Library flat pack, enlisted a friend's help and when it was completed, put it in our local gallery in the community exhibition.
I'm an artist, a former junior primary teacher, and an art gallery director. I've been a book lover since always; I enrolled myself at Gosford Library when I was seven, and read my first borrowed book while walking home. I love all sorts of libraries, second hand bookshops and charity shops and fairs. Every so often we try to bundle up some books to give away but invariably end up with more. There are books in every room in our house and now they're even on the front fence!
Favourite books? Too vast a list probably, but always Dickens, Austen and George Eliot. Then what about Christina Stead, Patrick White, Murray Bail, Robert Drew, Margaret Atwood, Thomas Mann, Gunter Grass, Barbara Kingsolver, Sinclair Lewis…..maybe a million more, and not only fiction. At the moment I'm reading Hannah Kent's 'The Good People'. I love Writers' Week every March in Adelaide. This year it was Kerry O'Brien, David Marr, Rick Morton, Ben Quilty etc. What a terrific event, and in a park, and free.
I've had the two volume work on Eucalypts by Stan Kelly for years, so I did a version of his beautiful watercolours and painted three varieties of eucalyptus flowers, one on each of the enclosed sides and back. These trees grow in our front garden (planted by me). The library is bolted onto our front fence. We get a fair bit of passing traffic because we are very close to our local Prospect shops. It really does stand out because it's painted light cream with a green roof (colours I was trying out in our kitchen).
I'm just about to embark on simple bookmarks tucked into books with a handwritten couple of sentences of recommendation. I'm also attaching a tray next to the library for sharing home produce. There's already a little notebook and pencil for suggestions. So far there are plenty of signs of books moving in and out which is a delightful surprise. I keep a big basket of books ready to supplement or change what's there every day. My next step is working on some kind of lighting. And, the added bonus, I'm meeting more of my neighbours.
To sum up, the whole process is just a joy. I love it. It shows, doesn't it?