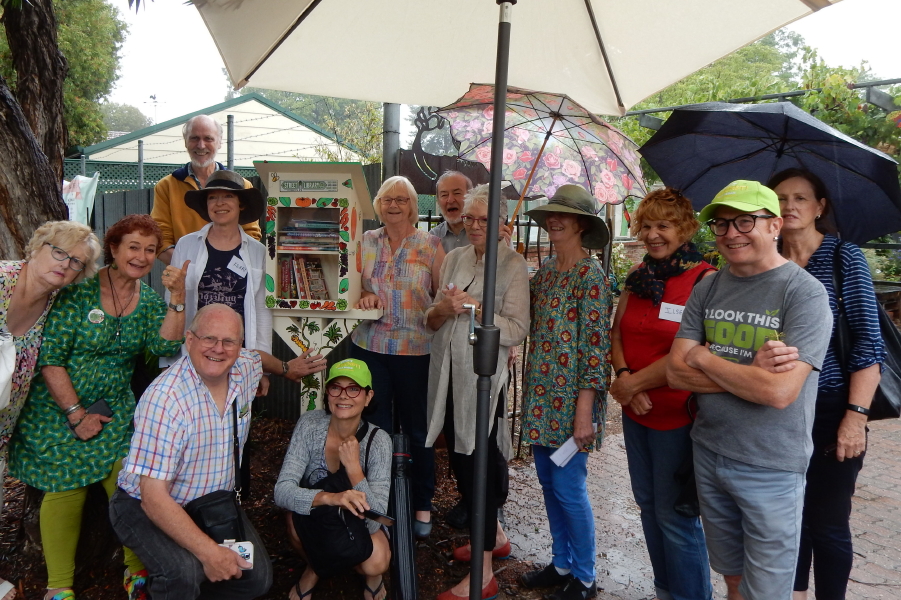 Prospect Community Garden (PCG) Street Library
On Saturday 1st February 2020 PCG launched their new Street Library. We were delighted to have Prospect local treasure and street librarian Gai Dudley unveil our library. Despite the rainy weather a keen group of community members gathered for the occasion.
Gai spoke of her own experiences as a street librarian including getting to know her neighbours, the joy of sharing a love of reading and keeping an eye on the comings and goings in her little library. She kindly donated 3 books to add to our initial offerings. We have taken up her tip of keeping a little notebook in the library so that messages can be left for the community garden.
The PCG street library has been brightly painted by some of the gardeners with fruit, flowers, bees, ladybirds and bookworms. While we will be stocking our library with gardening books and packets of seeds there are also books for children and a range of novels. The seeds are those we harvest at the garden, so suited to local conditions and right for planting in the coming weeks.
PCG has a commitment to being a community resource for sustainable gardening so our new street library is an extension of our interest in creative recycling. We also have a monthly Fruit and Veg swap where local produce is shared, so will now be encouraging our 'swappers' to share a book as well.
The community garden is adjacent to a well-used local park, passed by families on their way to the playground and regular walkers. We hope they will appreciate and engage with this new addition to the local landscape.