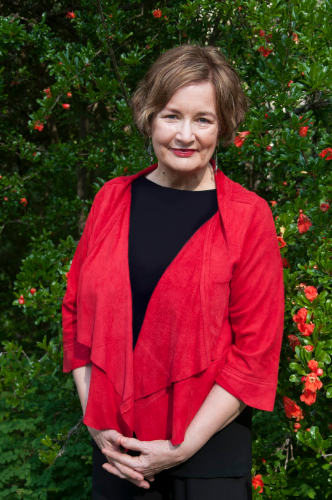 If you could place any book in a Street Library, what would it be and why?

They'd be the books I have to hand, and the ones I placed in the street library we began in the valley after the bushfires here a few months ago. It's on the Araluen Hall veranda, with hand sanitiser, for fresh air and social distance. I think I added more Clancy of the Overflow – several blokes who've never read a book before have loved it, and even rung with shock in their voices to tell me so. Lots more Pete the Sheep, a few Wombat Goes to School when kids were allowed back to school here, and two Miss Lily's Lovely Ladies with 'over 14 only' on the cover, which means a lot of 12-year-olds are going to decide to read it. Which is fine – it's only the large size of the book and age of the protagonist that makes it YA or adult. Give the books you love; give the books that will give joy and hope; but most of all, give the books you already have so you can give them now. Which reminds me, I'd better check if the library needs more stock…
What book(s) are you currently reading, and what sorts of things do you look for in a 'good book'?
I am reading Murder Boogies with Elvis by Anne George, one of my 'emergency' books. It's been a hard week, with the serious illness of someone I love. Murder Boogies with Elvis is one of the world's most magnificent books – sheer escapism but with depth of character and superb writing. Keep it for emergencies.
Have you come across a Street Library, if so where and what was your experience?
During the three months of bushfires in and around our valley, the roads were all closed, the bridges burnt. Kids were traumatised. So were many adults. Books are the best escape. I think when you watch TV, your brain becomes zombified – you just turn off. But when you read a book, your mind comes alive. You are every character, and in that time and place. If a book is good, you can taste the ice cream. You can't do that with TV.
I came up with the idea; the wonderful Lyn Irving got it installed. Our hall was being renovated, which is a polite way of saying it had more termites than timber. So the local men's shed (I think – it was a confused time with volunteers doing many, many things) built or converted a large cupboard. But the position was lucky, as now with the pandemic, it's in the open air; we have hand sanitiser too.
Lots of people have added books to it. But the rule is also 'if you love it, keep it'. I could never ask a kid to give a book they love back. But I've also posted on the Valley Facebook page and newsletter for anyone who needs books to contact me, and I'll leave a package in our letter box. With the pandemic it's been hard to get books for new babies, so I am so glad I've had a store of them. (Usually they'd have gone to charities at Christmas, but Christmas was spent with three bushfires. The fourth one began just after Christmas.)
The concept of Street Libraries is all about the sharing and discovering of new stories. Can you remember a time where you experienced such a discovery in your own life? What advice would you give on how to continue to pass on such explorations of literature?
My childhood was part boredom, part terror, part books. Books taught me to hope; they gave me joy; they also gave me the moral code with which I live. Jane Eye's cry for example, when Mr Rochester is urging her to a life of sin, and tells her than no family cares for her, there is no one she would hurt. But she says, 'I care for myself.' She doesn't mean that she will look after herself, but that she will keep her integrity and do what is right, even if no one ever knows it.
What inspired you to become an author?
I was bored at six years old and had run out of books to read. So, I wrote one. The headmistress printed it off for all the infants in school. I discovered that when you write a book, it can be exactly, wonderfully, the book you want to read.
If you could design your own Street Library in any way imaginable, how would it be decorated and why?
It would be weather and vermin proof, hold a lot of books, and have enough shelves so you can easily make categories for the various books. The one at the hall works. So does my letter box – it's a red painted drum at our front gate. (We live on a little frequented road.) I leave the red toggle down when there are books in it.
In the last six months, so many have had to spend so much time waiting – for the roads to open, for tracks to be clear, for burnt home sites to be cleared of debris. Families have spent more time together. And many have spent that time with books. I can't tell you the joy of hearing about a grandfather who hadn't read a book in decades saying with a grin, 'I read young Sam Pete the Sheep six times last night. He really loves all those noises.'
When times are hard, give what you can. If you have a letterbox, a few bags and a piece of string, you can start a street library. Small x many = joy.

Jackie French AM is an award-winning writer, wombat negotiator, the 2014–2015 Australian Children's Laureate and the 2015 Senior Australian of the Year. In 2016 Jackie became a Member of the Order of Australia for her contribution to children's literature and her advocacy for youth literacy. She is regarded as one of Australia's most popular children's authors and writes across all genres – from picture books, history, fantasy, ecology and sci-fi to her much-loved historical fiction for a variety of age groups. 'Share a Story' was the primary philosophy behind Jackie's two-year term as Laureate. Jackie's latest titles are The Schoolmaster's Daughter and Lilies, Lies and Love. Her next book, The Fire Wombat, will be released in late October.