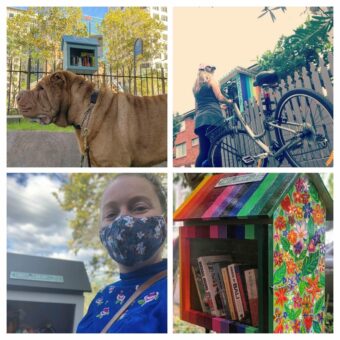 During the Sydney lockdown, my local daily exercise companion Ruth and I have hit the pavement to spot as many Street Libraries as we can. I must say we are getting rather good at it!
One of my favourites is called the Book House in Annandale  – such a perfect name.
Also in Annandale is View Street Library – perhaps the best view that any Street Library has!
Another few favourites are one in Camperdown and one in the city on York Street – both of these are Footpath Libraries that aim to offer books that engage the mind and raise social inclusion for those experiencing homelessness.
I have also enjoyed how Street Libraries embrace celebrations. Please see the image of a 'spooky' library from a Balmain Halloween season.
My passion for Street Libraries is an extension of my role as a Teacher Librarian in a Primary School.
I love being part of putting books in children's hands, hearts and minds.
On this topic have you been to the children's Street Library near Petersham park?
Children and their families may also enjoy riding to the Street Library pictured along the Cooks River – spot the pelican!
In nearby Marrickville is the stained glass Street Library.
No Street Library adventure is complete in this area without a stop at Petty Cash café for a take-away conveniently positioned near a park but more importantly – anotherrrr Street Library!
One last Street Library that is perfectly positioned near a park is in Ashfield.