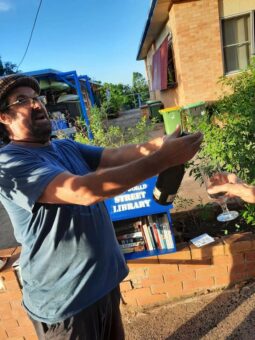 I've been interested in setting up a Street Library for a while so I was very excited when the kit came in the mail. My main motivation was to be able to share new books that I have purchased, quickly read and then dismiss to a far away bookshelf. By saying new I mean new releases that I have spent decent money to read as contemporary pieces, and that I'd like to share with friends with the same air of contemporary enjoyment. I wonder if this might not be appreciated by mainstream book publishers and sellers but on reflection, I think that being able to easily share new releases will probably make it more likely for me to make that investment in the first place.
We live in a small group of four semi detached flats where we all mostly live on our own. We call it Flat World because we are often all in a little world of cooperation and friendship. The Street Library has provided an opportunity to galvanise the community of sharing and cooperation that we already enjoy and extend that to the wider community of our and adjoining streets.
We have all become somewhat engaged in the process of building the street library, helping out with construction, painting, decorating, or donating spare paint etc. It's been a fun way to connect with neighbours and make it a true community resource. We all are avid readers yet have different reasons to use the library. Some of us are happy to include books that we are happy to give away and others, like myself, would like to make books accessible to all while still being able to have them returned to the library. I see some titles such as Bruce Pascoes "Dark Emu" as a book that should remain part of the library's "permanent collection".
Having completed the street library, it was a time to have a celebration and an opening ceremony. Naturally, we invited the Mayor of Lismore and were delighted when she accepted our invitation! According to the street library website, the library at FlatWorld would be a first for Lismore. It was also a first for our Mayor, her first opening as the newly appointed Mayor. Our opening was attended by people from the wider Lismore community but at heart, it was a simple get together of the neighbours. Some people came with books to share and we worried that the street library would soon be full. However, others came to borrow and soon a hearty trade and discussion were taking place. We enjoyed some champagne and then engaged in a spontaneous book club of sorts, exchanging our reflections and thoughts on the literature available in the library. The opening was a very heartening event and it felt like that the spirit of literacy and appreciation of literature would be facilitated by our library in the years to come. While it seemed frivolous at times, setting up our street library was a fun activity that has and will continue to bring our little community a little closer together. We hope that our story will encourage others to expand the street library network and the community of connectedness that it facilitates.