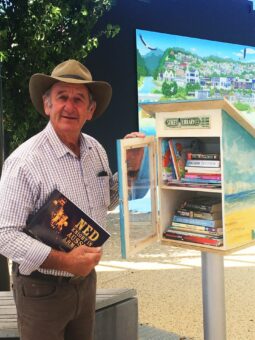 Why did the council decide to start a Street Library?
Waratah-Wynyard Council has a vision to encourage the exchange of reading materials and foster a sense of community through the provision of the little street libraries. The hope is to get people engaged with books with an outlook to create a positive lifelong relationship with reading and inspire a sense of community along the way.
What has the response been in the community?
Overwhelmingly positive! The Somerset Street Library has attracted a lot of positive social media attention. Some community members have a good understanding of a what a street library is and how they can access it. Others are discovering this special activity for the first time and are absolutely delighted by it.
Who designed the Street Library?
Local artist, Colleen Osbourne, has designed this Street Library Box. Her whimsical artwork depicts the iconic landscape of Table Cape, as seen from Somerset Beach, a few hundred metres away.
Who takes care of the libraries?
The Somerset Street Library belongs to the people of the village. Waratah-Wynyard Council staff will keep an eye on the library, but it is placed in a well-lit area with good passive surveillance and the hope is that this special town treasure will be respected and looked after by the whole community.
Tell me more about your local area to inspire people to visit.
The Waratah-Wynyard municipal area covers the heart of Tasmania's beautiful north-west. Somerset is a small seaside township with pristine beaches begging for exploration, a vibrant public art collection and culinary opportunities that showcases the delicious local produce.
Photo: Waratah-Wynyard Mayor, Robby Walsh, was excited to find a book at the new Somerset Street Library about the infamous Ned Kelly… let's hope he doesn't get any ideas!