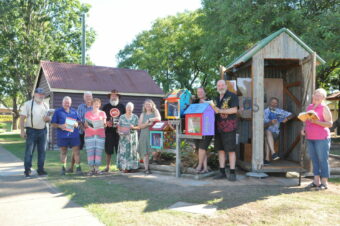 Our local community group Marburg and District Residents Association at the beginning of last year had discussed the possibility of having some sort of a lending library here in Marburg.  The mobile library which visited fortnightly had stopped coming as a new library was being built in nearby Rosewood.  However, with Covid happening our ideas did not progress as we were unable to hold meetings for several months. 
Last year we were asked by an Ipswich Library representative if we would be interested in installing a Street Library in front of our community building (known as the 'green shed). We were happy to go with this and we were given a library box for this purpose.  However, when we saw the box we thought we needed two more so we had two more built by our president's son (Rob Gratton).  Two local artists (Michelle Howarth and Tanya Weier) painted them. There is one for kids, one for fiction, and one for non-fiction. One of our local residents (Wayne Taylor) built the frame on which the boxes sit.                                                                                      
The President of our group (Barry Gratton) then came up with the idea of a reading room. In days gone by, the backyard dunny was used as a reading room so Barry came up with a design and enlisted Rob to build the framework.  The outside was covered in corrugated iron sourced from our local Antique shop owner Les Birnie. The iron had come from the old post office roof which had been damaged in a hail storm a few years back. The iron cladding was added by Barry and Vice-president Mark Robinson.
To complete the library, a garden mainly put together by the local member of our group (Valerie Taylor) was added to the site.  Some paving was also added to complete the project. This was installed by another local (Wayne Wilmshurst).
Our Street Library has created a lot of attention and the locals love it.  We have been given donations of books and keep the boxes well stocked. Visitors to the town have been impressed and many like to have their photo taken reading a book while sitting 'on the throne'.