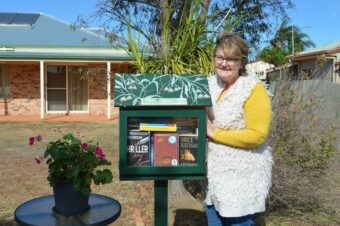 Meet Street Librarian Debbie who runs Westbrook Wise Owl Street Library. You never know what literary delights await you in this teeny weeny Street Library, serendipity is the magic word here!
Making this Street Library come to life has been a long-term goal for me after seeing a story on Gardening Australia, where Costa made a Street Library from recycled items. I loved the idea and as I am an avid book lover I saw this as an opportunity to promote community spirit and keep the magic of books alive. So, I googled making a Street Library and found the Street Library Australia website and well, the rest is history!
I enjoy doing something for the community and especially seeing the joy that the library brings to people, the best feeling is seeing your own little library take off! Initially, I was worried and a little hesitant that no one would use the library or worse still that it may be vandalised or damaged. But I am happy to say that those fears have not come true and I love being a street librarian, finding new books to put in the library and letting everyone know about a 'great read'.
So, I would encourage anyone who has thought about creating a Street Library in their neighbourhood or community to go ahead and do it! You will be so glad that you did and we all do need that sense of community spirit and connection especially now in these worrying times. It's about making a difference wherever you can, no matter how small.