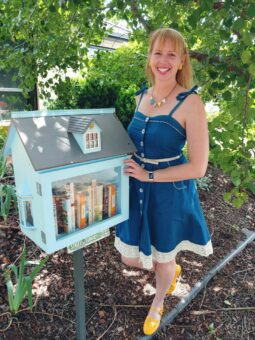 I first came across a Street Library a few years ago, on holidays in Gerringong NSW.  I fell in love with the idea and was then on the lookout for any others I might come across.  I live in Banks, the most southern suburb of Canberra. I hadn't noticed any other Street Libraries in my suburb but had been thinking of getting my own for a year or so. I have a lot of books which I usually buy from op shops. I don't keep books once I've read them and rather than giving them all back to an op shop I wanted to share them with my neighbours.
My Street Library has an Instagram account called
opalstreetlibrary.
Through Instagram I have met another reader in my suburb and become friends in real life, which is lovely!
I bought the kit version of The Shed and it reminded me of a dollhouse. I bought some dollhouse, dormer window, bay window, front door (for the back), and decorative ridge capping. My daughter painted the silhouette of the dancing couple in the bay window. My Street Library has now been established for six months.  And I'm more than happy for readers to take a book without leaving a book because I always have plenty to add myself!