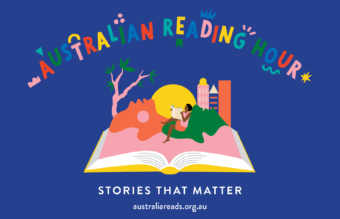 Join us on Tuesday 14 September 2021 to celebrate the joy of reading!
#StoriesThatMatter
Australian Reading Hour 2021 celebrates the stories that matter and explores the role of storytelling in transforming lives and shaping our sense of identity, belonging and understanding – as individuals and as a nation. Follow along and join in @australiareads on Facebook, Instagram and Twitter.
About Australian Reading Hour
Originally launched by Australian libraries and library associations for the National Year of Reading in 2012, the Australian Reading Hour began as an event for all Australians to set aside one hour on one day to read – whatever they wanted, wherever they were located, and however they chose to read.
It has since become an annual program featuring events with Australian authors, writers, poets and illustrators in libraries, schools, bookshops, and even in shopping centres, and on public transport.
Australian Reading Hour is made possible with assistance from the Copyright Agency Cultural Fund.
You can attend one of our events near you in person or online.