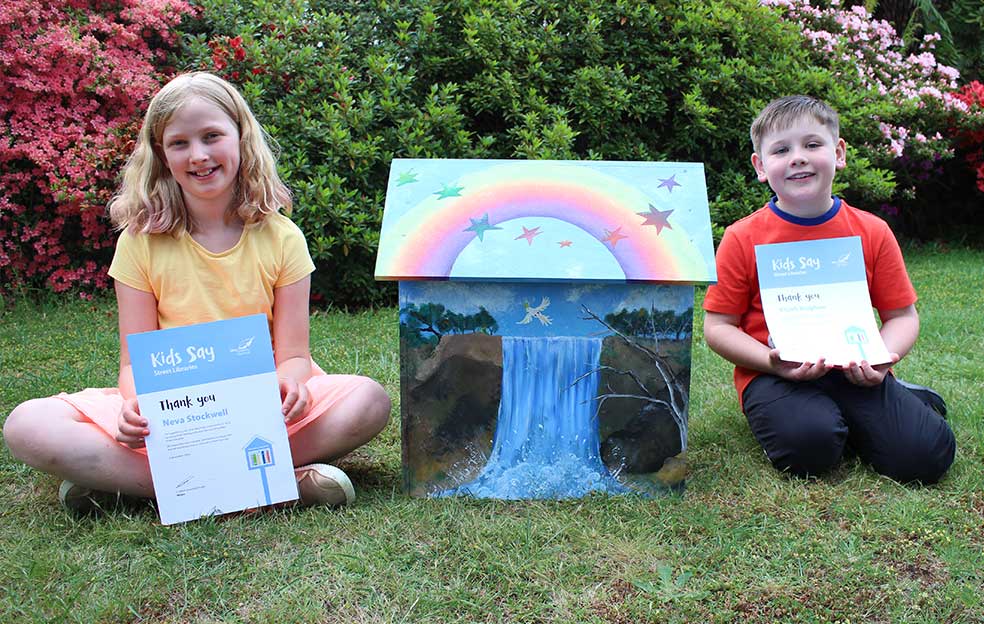 Kids across the Blue Mountains have had their say on the location and designs of 11 children's street libraries, which will soon be installed throughout the Blue Mountains from Blaxland to Blackheath.
We asked kids (aged five to 12 years) to participate in the program using Kids Say – a new, dedicated space on Council's existing Have Your Say website, where they have the opportunity to be heard about issues in their community and about what is important to them. The kids, who helped identify suitable locations, include: Chloe Fenning; Eva Faull; Layla Rose Mind; Class 5H/C Warimoo Public School; Iszaak & Jeremiah Blanch; Neva Stockwell; Steph Zhang-Kilgarriff; Huxley Logue; Elijah Hughan, Zoey Gradden, Robert, Lucas and Thomas Campbell.
Designs by two local budding artists, Neva Stockwell from Wentworth Falls and Elijah Hughan from Blackheath, have also been selected and incorporated into the final artwork for the libraries. Neva contributed the lyrebird, waterfall and waratah, while Elijah Hughnan suggested the possum and rainbow – for the design to be used at all 10 locations.
Mayor Mark Greenhill said: "The Kids Street Libraries are a wonderful community initiative. Language and literacy development are major domains of early childhood development. This type of development begins from birth. Kids Street Libraries are not only away our community is supporting child friendly communities but they are also helping to promote reading.
"We are encouraged and inspired by the kids in our community who want to be actively engaged in shaping their local community and using their voice to have a say."
The Blue Mountains Womens Shed and Central Blue Mountains Mens Shed have been behind this initiative from the start, supporting the assembling, painting and installation of the Street Libraries for kids.
Community minded residents have also put their hands up to be responsible for a Kids Street Library in their neighbourhood at Blaxland, Mount Riverview, Hawkesbury Heights, Glenbrook, Valley Heights, Warimoo, Winmalee, Faulconbridge, Springwood, Wentworth Falls, Blackheath. They will help ensure COVID-19 requirements, as advised by NSW Health, are followed.
The initiative is being rolled out to coincide with Children's Week, which is celebrated between 24 October and 1 November.
Blue Mountains City Council would like to thank all the kids who participated in this project, as well as all of the local residents who will take responsibility for the Libraries, and the Central Blue Mountains Mens Shed and Womens Shed.
A full list of locations will be published when once the Street Libraries have been installed. Go to Kids Say to find out more.
Photo: Neva Stockwell from Wentworth Falls and Elijah Hughan from Blackheath who contributed their designs to the new Kids Street Libraries.
Source: New Kids Street Libraries to roll out across the City